Guardmaster/GuardMaster® II
Installation Instructions
Guardmaster and GuardMaster® II Pressure Mounted Gate Installation Instructions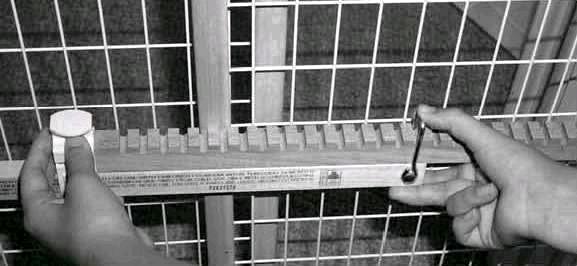 Facing the locking mechanism, lift the lock wire from

the notched pressure bar and slide gate towards the

open position until the rubber bumpers come in contact

with the doorway or hallway surface (27" – 41")(68cm-104cm).






Align the lock wire with the notched bar in the vertical

position, count four notches to left (toward plastic latch)

and make a distinctive pencil mark on the notched bar.






Release plastic latch by pulling upward on finger grip.






Raise the notched bar up until the lock wire fits into

a notch. Please mark this notch with a pencil. Push

down on the notched pressure bar until the gate

expands and applies pressure to doorway or hallway.






Please make sure that you have pushed the plastic

latch down until it has locked firmly into place over

the bottom pressure bar. Be sure that the gate is secure

by giving the top a push/pull motion. The gate should

feel tight in position. If the gate feels loose, release

the plastic latch and advance the lock wire to the next

notch on the pressure bar and repeat the locking procedure.




If you have any additional questions, please call us at (877) 242-8392.